Welcome to Toddler Approved Tuesday, the weekly link-up for you to share everything your little ones (0 – 5 years) have been loving!
I'm really excited to start co-hosting the Toddler Approved Tuesday linky with the lovely Becky over at 3 Princesses and 1 Dude. I've been taking part nearly every week since it started and it's now on it's 70th link up! The link up is a great way for me to find lots of new crafts, recipes and activity ideas for my Little Tots from lots of other kid bloggers.
I love the great activities Becky shares especially her super easy recipes but my favourite posts of hers has to be the After School Mats which are just genius. She sets up these mats for her monsters ready for when they get home from school to keep them busy whilst she can make tea. I often struggle with the after school chaos so need to start giving these a try. Check out her March After School Mats here.
This week we are sharing our super easy pizzas kids can make recipe….well it's not technically a recipe as it's so easy but these are a lot of fun to make and the Little Tots love helping create their own pizzas.
I look forward to seeing your link ups below and will pick my favourite two to feature next week.
Remember:
You can link as many posts as you like (well within reason!)
Remember to copy and paste #ToddlerApprovedTuesday badge on each post you would like to link up.
Try and pop by and comment on as many as you can, let's aim for at least the 1 behind you. Can't comment? Why not Pin, Tweet or share on Facebook.
Remember to share your post and the linky party using the hashtag #ToddlerApprovedTuesday on your social media, I will Retweet all your posts via Twitter (make sure you mention me in your tweets @clarestots for me to be able to Retweet). I will also pin as many as I can to the #ToddlerApprovedTuesday board on Pinterest.
Grab your badge: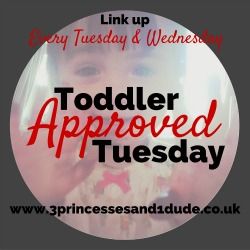 Link up below: